EDIT MAIN
EARLY CHILDHOOD
The early childhood years (from birth to the start of kindergarten) are an important time of rapid growth and learning. Children's brains are developing more quickly at this time than at any other. Young children are exploring what they can do with their bodies and creating relationships with loved ones. They are investigating how the world works and their place in that world. Because of this complex and rapid development in young children, a shared set of expectations of what young children can know and do is necessary to build successful early childhood education programs and supports. In Minnesota, this set of shared expectations is called the Early Childhood Indicators of Progress: Minnesota's Early Learning Standards (ECIPs). The areas of learning or domains covered by the ECIPs include physical and movement development; language, literacy and communications; cognitive; mathematics; scientific thinking; social systems; approaches to learning; the arts; and social and emotional development. Staples-Motley School offers many choices for preschool programming that align with the ECIPs. School Readiness, Head Start and Little Cardinals Academy Childcare curriculums all align with the ECIPs.
Starting in 2019-20 we will be moving ALL Early Childhood Education Services to the newly expanded Staples-Motley Early Education Center. This move will allow us to offer NEW and EXPANDED programming options.
Children are welcome to join an early learning class at any time - enrollment is always open and easy! With our new universal application, families can enroll for ANY preschool program option (including Head Start) through the school district services.
For information about any of the Early Learning programming,
Contact Cindy Zetah today at 218-894-5400 ext. 3003 or cindy.zetah@isd2170.k12.mn.us
LITTLE CARDINAL ACADEMY
We are now accepting registration for Little Cardinals Academy!
For information about any of the Early Learning programming,
Contact Cindy Zetah today at 218-894-5400 ext. 3003 or cindy.zetah@isd2170.k12.mn.us
A $25.00 registration fee per child is required with the completed registration form.
Classes run on an All -Day, All -Year basis.
Cost is based on the number of enrolled days per week
Staples-Motley Early Education Center
Monday through Friday
Childcare is available for up to 9 hours of care 6:45 am - 5:45 pm
EARLY CHILDHOOD FAMILY EDUCATION
ECFE classes offer parents and young children a chance to play together, be social, and learn something new. For many children, the classes provide the first step to introducing a positive school environment. The specialized classes provide time for creative projects, music, and imaginative play activities.
For parents, ECFE classes offer the added benefit of meeting with their peers along with a parent educator to exchange ideas and discuss parenting topics.
Current classes include:
-Fantastic Family Time (for families with children age birth -5)
-Infant class (birth to one)
ECFE classes are held throughout the school year and families may enroll at any time. For information about any of the Early Learning programming, contact Cindy Zetah today at 218-894-5400 ext. 3003 or cindy.zetah@isd2170.k12.mn.us
---
EARLY CHILDHOOD SPECIAL EDUCATION / EARLY INTERVENTION
Staples-Motley provides a variety of services for infants, toddlers, and preschoolers with special needs.
Children who are referred are evaluated with a comprehensive developmental assessment. Upon qualifying, children can receive early intervention services.
Infants and toddlers are provided with home visits to work with families on how to incorporate activities for learning into their routines at home. Preschool-aged children generally attend a center-based program that offers activities to encourage development.
SCHOOL READINESS
School Readiness classes are open to children 3 or 4 years old by Sept 1st.
Tuition is based on a sliding fee scale according to eligibility for free and reduced meal application.
Scholarships are available for eligible families.
2019-20 Applications Now Being Accepted (Limited Space)
Four-Year-Old Options
Monday and Wednesday 8:30 am - 3:00 pm
Tuesday and Thursday 8:30 am - 3:00 pm
Three-Year-Old Options
Tuesday and Thursday 8:30 am - 11:30 am
This class includes one ECFE parent/child session of your choice.
Select a Parent/Child day from the ECFE program schedule that fits your schedule.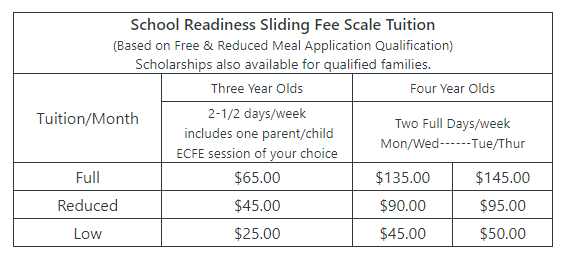 Early Childhood Screenings are required by law for Kindergarten admission. The good news is how easy it is - a FREE screening can be scheduled for your child as early as three years old. During your visit, we will check: vision, hearing, immunization records, and developmental growth. You will learn about your child's results and gain access to school and community resources. To find out the date of the next clinic and to schedule your child's appointment Cindy Zetah today at 218-894-5400 ext. 3003 or cindy.zetah@isd2170.k12.mn.us
Head Start
Head Start classes are offered in Staples and Motley through Tri-County Community Action (TCC). Head Start is a federally and state-funded child and family development program, helping low-income families become self-reliant while also helping prepare their children for school success. To find out more or to apply for Head Start, please contact TCC at www.tccaction.com.