EDIT MAIN
COMMUNITY EDUCATION
Call Lori at 218-894-2497 for information
regarding Drivers Education, Classes and Youth Programming.
MISSION STATEMENT:
Staples-Motley Community Education is committed to lifelong learning by giving access to and encouraging people of all ages to be involved in the comprehensive learning system offered through Community Education and the Staples-Motley School District.
Due to the impacts of covid-19, community education programs including summer rec will look differently. Please see the flyer below for details on initial offerings and those coming soon. All participants will be required to have a covid-19 waiver on file with community Ed.
SUMMER REC PHASE 1 - JUNE & JULY 2020

Phase 2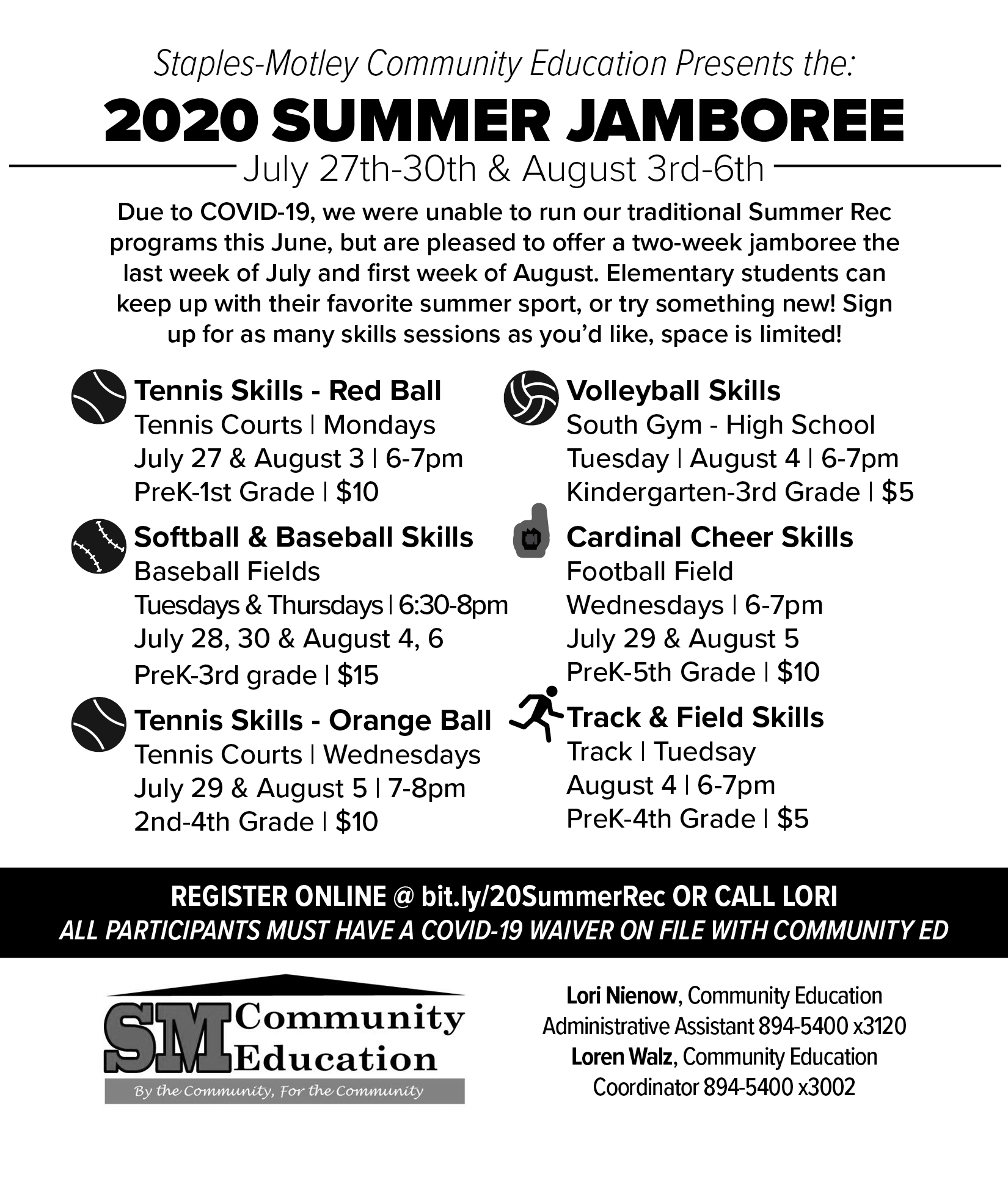 S-M School Building and Facility Use
Staples-Motley Schools are available to public organizations and are subject to policies and procedures outlined in the Facility Use Policy. If your organization would like information about using any of the school buildings in our district, call or email Lori Nienow. All facility requests must be made in writing and the forms may be found online or in person in the Community Education Office. Please fill out the application and email or fax back to the Community Education Office
Community Education Office
Ph# 1-218-894-2497
Fax# 1-218-894-2434
Our goal is to ensure that your event runs smoothly.
Please contact us with any questions you might have regarding facility use at the S-M Schools.
Questions:
Why do community groups pay to use school facilities?
Access to facilities involves added costs such as utilities, cleaning, consumable supplies, and additional wear and tear. These costs are absorbed by the regular classroom if not charged back to the user.
Where does the revenue from facility rental go?
The revenue is used to replace consumable supplies such as paper towels and toilet paper, offset utilities and personnel costs and maintenance of facilities and fields.