EDIT MAIN
SCHOLARSHIP INFORMATION
Scholarship opportunities are added to this page as soon as we receive them. If you have any questions regarding any of these scholarship opportunities please don't hesitate to contact the HS Student Services Office. 1-218-894-2431
---
Sign up for student newsletter scholarship PDF emails at
Scholarship Newsletter
Many scholarships available!
---
Seniors! Check out the website: collegegreenlight.com It has many college scholarships available. If you are still looking for money to help pay for your college expenses, check this site out.
---
Horatio Alger Scholarship Application Information
The Horatio Alger Association seeks to assist students who have
demonstrated integrity, perseverance in overcoming adversity, strength of
character, financial need, a good academic record, commitment to pursue a
college education and a desire to contribute to society.
The scholarships are given to deserving students each year and range in
award value from $6,000 to $25,000
Students may apply online August 1 - October 25 at
https://scholars.horatioalger.org/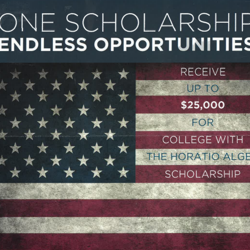 ---
---
---
The creators of the "Student Award Search Aid" website are offering a scholarship for 2019.
Please visit our website at http://www.studentawardsearch.com/scholarships.htm to read about us and to apply for our scholarship. While you're there, please browse through the rest of the site to learn more about applying for scholarships.
Our website was developed solely for the purpose of helping students locate and apply for scholarships. We are trying to improve the students' chances for success. The site is free and we charge nothing for the information or the application.
The deadline for applications is May 24, 2019
Amount of Scholarship: $1,000
---
The Coolidge Scholarship is an annually awarded, full-ride, presidential scholarship that covers a student's tuition, room, board, and expenses for four years of undergraduate study.
This one-of-a-kind scholarship may be used at any accredited college or university in the U.S. https://coolidgescholars.org/
---
Free Speech Essay Contest Click Here
---
Crow Wing Power Click Here
---
Mount Mary University Click Here
---
---
Biodiesel Scholarship: Entry Form Rules
---
Scholarship opportunities available through the College Board; from $500.00 up to $40,000. Go to https://opportunity.collegeboard.org/ to start your profile, and access scholarships available through the College Board.
---
Lions Scholarship information APPLICATION and INSTRUCTIONS
---
---
---
Minnesota Association of Townships Scholarships Click Here
---
Horizon Health Scholarship Click Here
---
Calvin Coolidge Presidential Foundation Scholarship. Click Here
---
Chamber Foundation Scholarship. Click Here
---
Grand Lodge Scholarship Click Here
---
Carlson School at the U of M Scholarship Click Here
---